Exclusive BoxGrips Texture
The unique BoxGrips gripping texture underneath each strap offers a premium hold that won't dig into boxes, won't slip, and won't snap so game pieces stay safely inside. It was especially designed to provide a protective hold stretch after stretch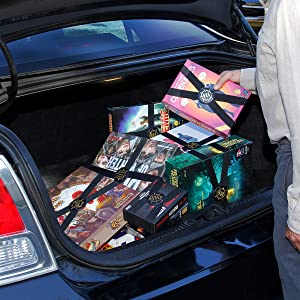 It's Safe to Travel with Games Now
Are you driving between game nights with your board games riding in the passenger seat under the seat belt? The fear of opening your car's trunk and finding your games half complete can be a distant horror of the past with the ENHANCE Board Game Box Bands.
Use with our Board Game Backpack
Owners of the ENHANCE Board Game Backpack (scroll down to discover) will be stoked to appreciate how perfect a companion the Board Game Box Bands will be. Enjoy peace of mind when stacking games and carrying smaller card games along.