Multi-Tiered Storage
Includes 4 trays, 3 of which have 36 slots each, while the last is a customizable tray for larger figures. Includes 2 foam covers for the bottom and top. Each slot in the 36 slot trays is 2x1x1 inches to accommodate 25mm - 28mm figures
Create Custom Slots
A 60mm deep layer with Pick & Pluck design allows you to store a number of large or uniquely molded figures including tanks, dragons, behemoths, and more. Easy to customize, simply pluck out individual foam columns until you've created the perfect slot!
Large Accessory Pockets
2 large storage pockets accommodate necessary war gaming accessories such as rulers, tape measures, pencils, dice, AoE templates, notebooks, and much more. Never arrive unprepared to your next battle.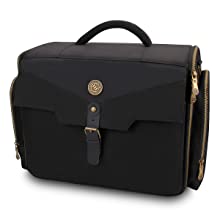 Rugged & Professional
Premium weather resistant material that incorporates thick padding along the edges and sides. High quality brass hardware ensures the strap and zippers endure daily use, and the deep black color complements the brass hardware for a clean professional style.